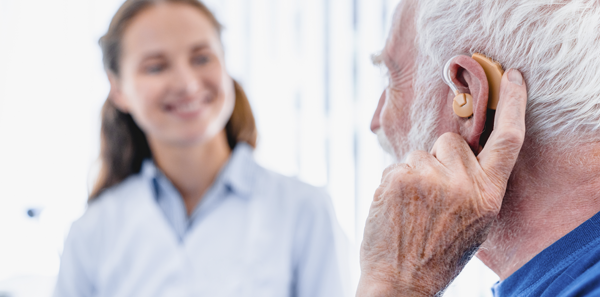 What we call Presbycusis is the natural deafness that gradually develops as part of the ageing process and is caused by deterioration of the inner ear.
As people are living for longer it's becoming an important issue, because it's seen more and more frequently.
When hearing loss occurs, communication becomes more difficult and social isolation becomes easier.
Our quality of life requires free-flowing communication with our environment.
There are four recognised types of presbycusis, depending on which part of the inner ear is affected.
Sensory: affects the inner ear and produces a drop in high-pitched tones.
Neural: affects the auditory nerve and produces a drop in medium and high-pitched tones.
Metabolic: affects the vascular stria of the inner ear, with a drop in all sound frequencies.
Mechanical: due to ageing and hardening of the inner ear.
The cause may be due to several factors:
Environmental factors: noise pollution, excessive noise and increasing noise volume.
Ototoxic: the presence and easy access of ototoxic substances, those that exert a harmful effect on the inner ear. Some examples are: medication, radiation or drugs.
Degeneration of the inner ear due to increased life expectancy.
Some families have a greater genetic predisposition to develop the condition.
The most common signs for identifying presbycusis are:
The patient hears but doesn't understand.
They get more and more annoyed by noises.
Internal noises (tinnitus) are very common.
It is usually associated with presbystasis or impaired balance.
There are 3 types of treatments:
Medical: in some cases vitamins or vasoactive drugs, among others, may be recommended. Although efficacy is not fully demonstrated, there have been cases where deterioration appears to slow down.
Hearing aids: to date, this seems to be the only effective treatment and the one that offers the most positive results. However, it's important that the patient doesn't expect to get new ears with them.
Other tips: There are other ways to solve the problems derived from presbycusis, including learning to lip-read, using headphones for television and radio and lights and warning bells around the home.
It's important to emphasise that the best way of dealing with presbycusis is to have an active social life and encourage people to communicate with each other.
In the age of communication we're in nowadays, it's vitally important to take care of ourselves to ensure good hearing health.
Dr. Alfonso Aracil Montesinos
Ear, Nose and Throat Specialist
The information published in this media neither substitutes nor complements in any way the direct supervision of a doctor, his diagnosis or the treatment that he may prescribe. It should also not be used for self-diagnosis.
The exclusive responsibility for the use of this service lies with the reader.
ASSSA advises you to always consult your doctor about any issue concerning your health.