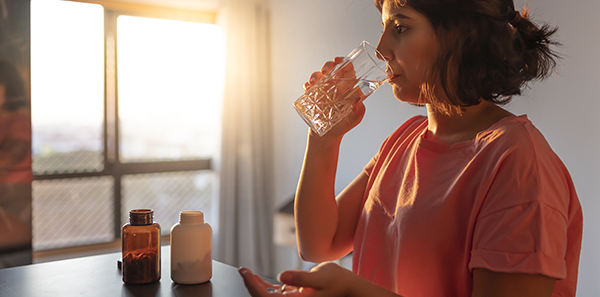 Vitamins are essential nutrients needed for cells and the body to function properly, as well as for growth and correct development.
There are two large groups of vitamins depending on their general chemical properties: water-soluble vitamins and fat-soluble vitamins.
Water-soluble vitamins
Water-soluble vitamins dissolve in water. They're eliminated by the body through urine and we need to consume them on a daily basis. Group B vitamins and vitamin C are the most important.
Vitamin C, known as ascorbic acid, is obtained from citrus fruits and is needed for normal growth and development.
These are essential for the brain and nervous system to function properly.
Vitamin B1: Thiamin. In rice bran.
Vitamin B2: Riboflavin. In meat, dairy and eggs.
Vitamin B3: Nicotinic acid (Niacin). In meat and cereals.
Vitamin B5: Pantothenic acid. In meat and whole grains.
Vitamin B6: Pyridoxine. In meat and dairy.
Vitamin B7: Biotin. In meat, dairy and eggs.
Vitamin B9: Folic acid. In legumes.
Vitamin B12: Cyanocobalamin. In liver, eggs and animal meat products.
Fat-soluble vitamins
Fat-soluble vitamins dissolve in fats and oils and are stored in the body's fatty tissue, mainly in the liver and kidneys.
There is no need for these types of vitamins to be consumed on a daily basis. Taking them in excess can cause them to be stored in our fat cells and accumulate in the body, where they may cause toxic damage.
We're basically talking about 4 types of fat-soluble vitamins: vitamins A, D, E and K. The most toxic are A and D.
The following are the most notable characteristics of each fat-soluble vitamin:
Vitamin A: Found in cod liver oil. It's critical for growth and development, as well as for sight.
Vitamin D: In fatty fish and cod liver oil. For metabolising calcium and phosphorus. Sunlight is the main source of vitamin D, which is manufactured by the skin. In adults, a vitamin D deficit causes conditions such as osteomalacia and osteoporosis. In children this vitamin is essential for development and growth.
Vitamin K: Found in legumes and vegetables. This vitamin is involved in blood clotting processes.
Vitamin E: In wheat germ oil and unrefined vegetable oils. It has a lipid antioxidant function. Plays an essential role in cellular metabolism.
A healthy, balanced diet, together with regular physical exercise, is enough to guarantee the necessary vitamin supply for your body and prevent possible malnutrition.
It's advisable to avoid using multivitamin complexes to feel better and boost the body's defences. Vitamins are only necessary when there's a specific deficiency in the body or a need for an extra input in certain situations, such as pregnancy, growth, breastfeeding, or in special cases involving an illness or the risk of developing it.
It's always best to take vitamins under the supervision of a doctor or a nutritionist.
The information published in this media neither substitutes nor complements in any way the direct supervision of a doctor, his diagnosis or the treatment that he may prescribe. It should also not be used for self-diagnosis.
The exclusive responsibility for the use of this service lies with the reader.
ASSSA advises you to always consult your doctor about any issue concerning your health.