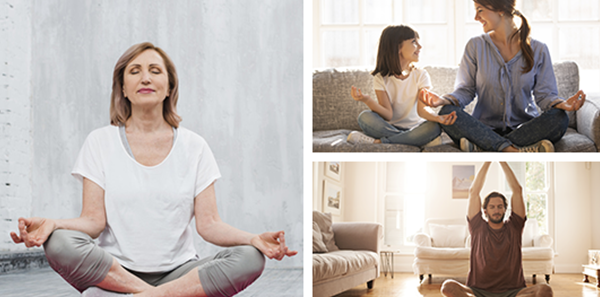 We are experiencing an unprecedented situation. In recent weeks we have remained in our homes without the possibility of carrying out many of the activities that we had been doing; this has caused uncertainty and consequently tension, impatience and stress.
In this context, the World Health Organization advises that a good way to deal with these feelings during confinement is through meditation, which with your daily practice we may achieve emotional well-being.
Lately the practice of meditation has become very popular, to the extent of being considered very positive in patients suffering from health problems related to stress.
What are the benefits of meditation?
• Reduces anxiety and stress, improves mood, managing to balance our emotions.
• It helps improve the quality of sleep and concentration.
• It increases empathy and strengthens our learning capacity.
• It favors our resilience capacity, helping to have an adaptive attitude in adverse situations.
What do we need to meditate?
• Space. It is advisable to find a place at home that transmits tranquility and as far as possible away from any distractions.
• Time. It is not necessary to spend a lot of time meditating, 10 to 20 minutes a day will be enough to find our inner peace.
• Comfort. It is advisable to wear comfortable clothing, if possible, that does not oppress us when practicing this activity.
• Constancy. Meditation requires perseverance and patience from those who practice it, especially in its initial stages, when its effectiveness is frequently questioned.
How to start meditating?
Currently, there are many pages and platforms on the Internet that offer a wide variety of content that helps to practice meditation at all levels. However, in general, the first guidelines to follow are:
• Sit down and take an upright back posture preventing tension in the neck and shoulders.
• Concentrate on breathing. Exhale and inhale gently.
• Identify the thoughts that deconcentrate us, letting them go and focusing on our breathing.
Through meditation we are doing mind-body training that will give us healthy benefits and greater emotional stability, so necessary in these times of confinement.
The information published in this media neither substitutes nor complements in any way the direct supervision of a doctor, his diagnosis or the treatment that he may prescribe. It should also not be used for self-diagnosis.
The exclusive responsibility for the use of this service lies with the reader.
ASSSA advises you to always consult your doctor about any issue concerning your health