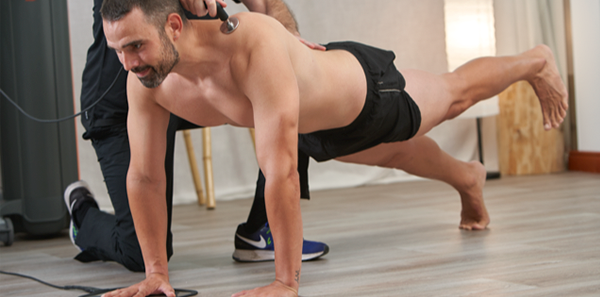 INDIBA technology has been leading the world in the radio frequency field for 35 years.
In the clinic we use a high frequency current to produce a cellular biostimulation that accelerates tissue healing, speeding up the body's natural repair process by increasing blood flow supplying oxygen and nutrients for the repair process. This means we can use our appliances from the most acute phase of the injury to reduce inflammation and pain, accelerating the overall rehabilitation process.
The effects of the treatment depend on the temperature reached and the time that the temperature is maintained in the treated area. These unique benefits are backed by more than 19 years of molecular research with more than 300 documents and clinical studies. The result of these studies established that the optimal radio frequency to achieve significant and safe changes is 448 kHz.
It's the most reliable radio frequency device with proven effectiveness with clear evidence in consultation used in treatments for:
Sports Physiotherapy and Rehabilitation
The use of INDIBA helps athletes to recover more quickly from injuries, avoiding relapses and improving their performance. Most teams in the Champions League, Premier League, professional cycling, athletics and tennis use INDIBA, among many others. When an athlete has an injury that prevents them from competing, they need to accelerate the tissue repair process, so the application of this technology will achieve results quickly and safely. It can be used to treat:
Arthrosis
Tendinopathy (Achilles, shoulder, patellar)
Post surgery
Muscle tears
Sprains
Fracture healing
Pain reduction
Lower back pain
Muscle strains
Pelvic Floor Pathology
Both men and women can suffer pelvic floor dysfunction caused by a range of factors such as vaginal births, age, pelvic surgeries, collagen diseases, etc., causing urinary and faecal incontinence or even genital prolapse. These symptoms may appear in conjunction with pelvic pain or discomfort. At the advanced physiotherapy clinic we can apply INDIBA treatment to:
Reduce incontinence.
Quickly recover from Caesarean sections, tears, fissures and episiotomies.
Improve the ability of the pelvic muscles to contract and relax.
Improve vaginal dryness and ejaculation control.
Reduce pain and inflammation.
Physioaesthetics
INDIBA® works by balancing cell metabolism so it enhances muscle and skin tone, improves circulation and promotes collagen and elastin synthesis. Plus, molecular biology studies have shown that adipocytes decrease their activity, reducing fat deposits in the body.
One of the fundamental aims of the physical therapist is to maintain the elasticity and functionality of soft tissues. This technology enables us to skin condition, flaccidity and localised fat in certain areas such as chest, abdomen and legs.
In the case of scar treatment (such as after surgery or a Caesarean section) INDIBA can accelerate healing, reducing inflammation and bruising to promote proper healing. In other types of treatments to improve pain and circulation in the legs, we can use INDIBA together with manual techniques, encouraging lymphatic drainage and relaxation.
Alejandro Pérez Campaña
Physiotherapist and Director at Clínica Campaña
The information published in this media neither substitutes nor complements in any way the direct supervision of a doctor, his diagnosis or the treatment that he may prescribe. It should also not be used for self-diagnosis.
The exclusive responsibility for the use of this service lies with the reader.
ASSSA advises you to always consult your doctor about any issue concerning your health.