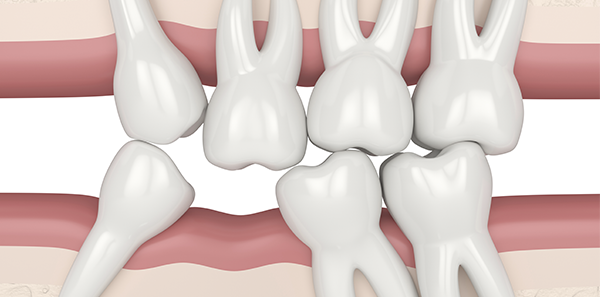 Loss of vertical dimension of occlusion or bite collapse is one of the most complex dental problems in the clinic and one of the most difficult pathological bites to treat. This chewing (mastication) disorder produces multiple problems that can be prevented with early treatment.
What does it consist of?
In dental terms, occlusion means that the dental surfaces make contact, ensuring stable support. Loss of vertical dimension of occlusion, or bite collapse, occurs when the jaws lose their proper position due to the loss of teeth in the lower jaw, a phenomenon that occurs when lost teeth are not replaced, affecting 32% of patients.
This syndrome is characterised by the lack of contact between the upper molars and their antagonists, the lower molars. Therefore, this incorrect jaw position generates abnormal movements that interfere with the bite, preventing proper chewing and putting the rest of the teeth at risk.
Consequences and treatment
Bite collapse also results in an overload of the upper teeth. In addition, the patient presents a loss of vertical dimension, which means that the distance that separates the chin from the base of the nose (mouth height) is altered by this syndrome. Evaluation and interdisciplinary treatment are required to restore normal function.
Some cases may even require the use of dental prosthetics to correct the vertical dimension, a necessary procedure since the other teeth receive more load than necessary due to the absence of molars. Veneers are placed on all of the teeth to increase the height lost over time. More complicated diagnoses require orthodontics or orofacial surgery.
The importance of prevention
Given the increase in the prevalence of patients who have lost molars throughout their lives, the best treatment to prevent bite occlusion is prevention, replacing lost teeth short-term with fixed or removable prostheses, depending on the most suitable option for each patient.
Tooth conservation is essential to prevent this situation from occurring, which depends on each patient's commitment. The following are key guidelines:
Brush three times a day.
Use dental floss.
Visit your dentist at least once a year.
Early detection enables potential problems to be solved before tooth loss occurs. Dental cleanings will also ensure gum and periodontal health while detecting any cavities early.
María José Rodríguez Hidalgo
Dentist specialising in orthodontics, prosthodontics, and oral rehabilitation
 Dentalbox Clinic
The information published in this media neither substitutes nor complements in any way the direct supervision of a doctor, his diagnosis or the treatment that he may prescribe. It should also not be used for self-diagnosis.
The exclusive responsibility for the use of this service lies with the reader.
ASSSA advises you to always consult your doctor about any issue concerning your health.