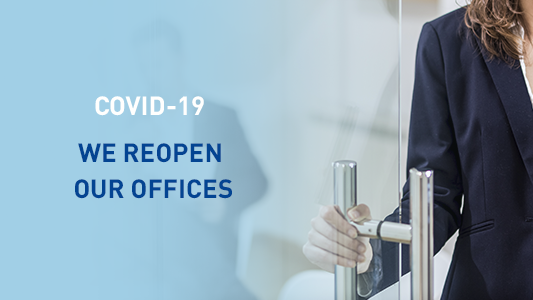 Coinciding with the de-escalation, we resume personalised service in our offices, taking a step forward towards the new normality.
We return with great enthusiasm and with the necessary prevention and hygiene measures to guarantee the protection of both our policyholders and our team, creating a safe space and without losing quality or warmth:
We kindly requested you to wear appropriate protection. The use of a surgical mask is necessary to access the interior of the offices.
Hydroalcoholic gel is dispensed upon arrival to access the interior.
One person will be attended at a time, avoiding crowds and offering personalised attention, respecting the safety distance of two meters.
In any case, we must not forget that, while the risk of infection persists, it is advisable to visit our offices only when essential. As up to now, we are also still available by telephone and telematic systems.
Returning to the new normal will be a challenge for everyone, but we are confident that together, we will succeed little by little!