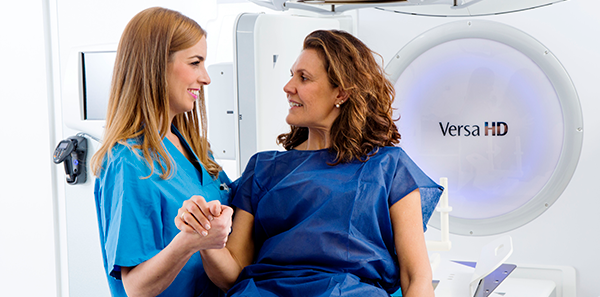 Statistics recent published by the Spanish Medical Oncology Society (SEOM) reveal than half of patients diagnosed with cancer in Spain survive the disease. Although cancer is still one of the main causes of death, we understand more about the disease every day, and have more resources for controlling its progression.
Technology is enabling us to develop more precise, less invasive and more efficient techniques. Although all areas of medicine have benefited, significant advances have been made in oncology, increasing cure rates and improving patients' quality of life. In fact, recent technological developments have meant substantial progress in the practice of Radiation Oncology and have improved the accuracy and quality of treatments, which are increasingly more effective and less toxic to patients.
What is radiation therapy?
These days, around 60% of people diagnosed with cancer receive radiation treatment in the course of the disease. In the case of breast cancer, the figure is as high as 95%, according to data published by the Spanish Radiation Oncology Society (SEOR). Radiation therapy is an oncology treatment that involves administering doses of radiation therapy for curative or palliative purposes, to improve the quality of life in patients Radiotherapy: technology used in oncology treatments with advanced cancers. The goal is to destroy cancer cells, preserving the affected organ and the healthy cells and tissues surrounding the tumour. It is a painless procedure administered in an outpatient setting which, in most cases, allows patients to continue with their daily lives. High-precision technology This treatment is prescribed after multidisciplinary committees have evaluated both the patient and the disease, and it also depends on the type of tumour and its size.
When combined with other options, such as chemotherapy, surgery, and new biological and hormonal agents, it can improve the results of cancer therapy. In fact, in carefully selected patients, metastatic disease can be treated with curative purposes or the need for other systemic treatments such as chemotherapy can be postponed. The high precision is due to new, high-tech systems that have revolutionised radiotherapy in clinical practice with more accurate, shorter and fewer sessions. Linear accelerators control doses of radiation precisely and safely, using sophisticated imaging systems that simplify the process. Low-dose non-oncological radiotherapy is used to treat benign disease (arthritis, plantar fasciitis, contractures, etc.) Another important but little-known use of radiotherapy is in the treatment of benign diseases. Low doses of radiation improve the quality of life of many patients who suffer daily from arthritis, plantar fasciitis and other inflammatory diseases.
Dr. Ignacio Azinovic- Medical Director GenesisCare in Spain
The information published in this media neither substitutes nor complements in any way the direct supervision of a doctor, his diagnosis or the treatment that he may prescribe. It should also not be used for self-diagnosis.
The exclusive responsibility for the use of this service lies with the reader.
ASSSA advises you to always consult your doctor about any issue concerning your health