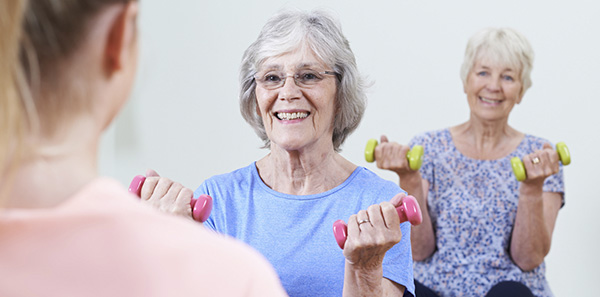 Advances in technology and lifestyle changes have lengthened our lifespans and there are far more elderly people in the population. That's why people need to be accept that they must stay active and take regular exercise if they want to live a long life and prevent or delay the onset of illnesses and disabilities.
We recommend that before you start exercising you should have a health assessment, go over your medical history and look at any recent health problems. This will ensure that exercise is suitable for you, particularly if you are elderly or suffer from a chronic disease and you will be able to exercise with complete safety and peace of mind. Your medical history should be taken by qualified medical staff, taking into account each person's physical condition and adapting the exercise to his or her capabilities
Sport offers so many benefits: Sociability, improved physical condition, it relieves pain, corrects conditions or reduces the risk of their appearance, among others. Resistance training helps to improve the cardiovascular system and activate the metabolism and respiratory capacity. Meanwhile, strength training helps to improve problems such as osteoporosis, maintain muscle tone and reduce the effects of atrophy.
Health institutions tend to recommend aerobic-type activities, strength training with light weights and flexibility exercises. The purpose of all this is to prevent diseases of the cardio-circulatory and respiratory systems and also those which influence the skeletal muscles.
There are more and more sports programmes available for the elderly. It is important to remember this and to stress that sport not only counteracts ailments associated with ageing (heart disease, rheumatic diseases, osteoarthritis, hypertension, diabetes, etc.) and maintains the functional capacity, but also stimulates psychological aspects (personal independence and confidence) and emotional and social aspects to improve their quality of life.
D. Juan Antonio Andreo Lillo – Qualified in Phisical Activity & Sports
The information published in this media neither substitutes nor complements in any way the direct supervision of a doctor, his diagnosis or the treatment that he may prescribe. It should also not be used for self-diagnosis.
The exclusive responsibility for the use of this service lies with the reader.
ASSSA advises you to always consult your doctor about any issue concerning your health.