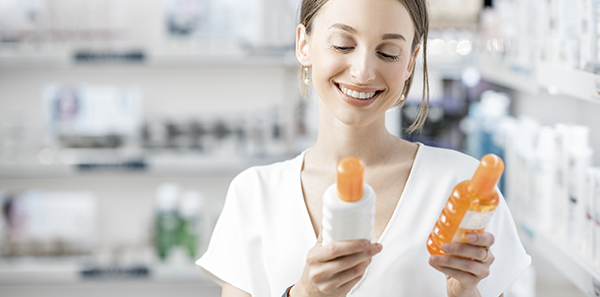 The sun is essential for life and has positive effects on the body, such as facilitating vitamin D synthesis and improving mood.
On the other hand, ultraviolet radiation from the sun also has negative effects. It weakens immune defences, prematurely ages the skin and can cause the appearance of skin cancer and eye cataracts.
Factors to take into account are:
Not everyone has the same skin and their response to sun exposure is not uniform either. Skin phototype is defined by the tone of the skin, the colour and type of hair, the ease of tanning and the tendency to sunburn.
Skin diseases. Some skin diseases can get worse with sun exposure (herpes, allergies, lupus, etc.). Patients who have suffered from skin cancer must take special care for the rest of their lives.
The environmental and geographical situation. In places at higher altitudes or low latitudes, in summer, at noon or in places with low humidity and thinner ozone layer, the radiation dose is more intense, so the level of photoprotection must be higher.
Some medications increase the risk of sunburn such as antihistamines, anti-inflammatories, antibiotics, and antiulcer drugs.
Types of sunscreen
The index that estimates how much extra time you can expose yourself to the sun is known as the Sun Protection Factor (SPF) and this value is found on all packages. For example, if your skin reddens after an exposure of 10 minutes, a sunscreen with SPF 15 would allow you to be exposed for up to 15 times longer without burning. In other words, 150 minutes (2.5 hours), although in practice this is only an estimate.
When you are first exposed, you need a high SPF and can reduce it over the following days. The SPF must be higher for low phototypes (people with fair skin tone): children, days of prolonged exposure time, in the mountains, in contact with water, snow, grass, asphalt or earth and for people at risk.
Depending on the composition, protectors are classified into three types: physical filters (mineral screen effect), chemical or organic and biological. Because they're less harmful (they aren't absorbed) and effective, organic filters are the most highly recommended.
Most sunscreens offer good protection against UVB light but not against the action of UVA. You must look at the packaging to check if they're wide spectrum filters that cover both and if they also filter the infrared even better.
Recommendations
Exposure to the sun should be practised responsibly:
Babies under the age of one should not be exposed directly to the sun.
Avoid exposure between 12 noon and 4 pm and extend the exposure time gradually.
Apply sunscreen at least 30 minutes before and reapply 30 minutes after the start of exposure to the sun, as well as after bathing or sweating. Repeat the application every 2 hours and remember to protect your lips. The product must be applied in sufficient quantity to form a single continuous layer and always check that the filter is from a trusted laboratory and in good condition.
Wear approved sunglasses that protect against both UVA and UVB rays.
Drink liquids and apply moisturisers after sunbathing.
Be aware of photoallergic reactions with some medications (consult your doctor).
Educate children to protect themselves from the sun.
It's important to remember that sunscreen doesn't prevent tanning, but will allow it to be more gradual and persistent.
Dra. Laura Marqués
Dermatologist at Hospital-Clinic Costa Brava
The information published in this media neither substitutes nor complements in any way the direct supervision of a doctor, his diagnosis or the treatment that he may prescribe. It should also not be used for self-diagnosis.
The exclusive responsibility for the use of this service lies with the reader.
ASSSA advises you to always consult your doctor about any issue concerning your health.