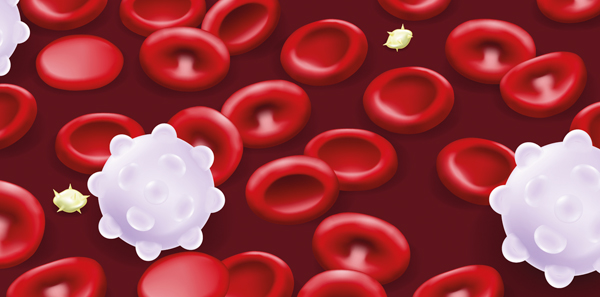 The word Thalassaemia comes from Greek (sea and blood), and this condition frequently affects people in the Mediterranean (southern Spain and Italy, Sicily, Sardinia and North Africa).
It is a type of hereditary anaemia that affects the composition of the haemoglobin -Hb-, a protein contained in the red blood cells and that is responsible for transporting oxygen.
Thalassaemia is the change of the Hb molecule resulting from decreased synthesis, whether total or partial, of chains of globin (protein component of Hb).
Adult Hb, or HbA, is composed of 4 chains of polypeptides: 2 alfa chains and 2 beta chains.
Alpha thalassaemia entails a deficient synthesis of alpha chains and, therefore, an excess of beta chains, causing oxygen to be transported inadequately.
Beta thalassaemia, on the other hand, entails a deficit of beta chains and, therefore, an excess of alpha chains, which affects and destroys red blood cells, a condition known as haemolytic anaemia.
If only one gene is affected, it is mild or moderate haemolytic anaemia (thalassaemia minor). This condition is generally asymptomatic and is most frequently found in the Mediterranean region.
More severe forms of anaemia are involved when two or more genes are affected. They present with weakness, fatigue and dyspnoea, such as in severe cases like thalassaemia beta mayor, also occasionally known as Cooley's Anaemia. This congenital haemolytic anaemia affects children, and the onset may occur beginning at 3 to 4 years old. It is characterised by poor body development, manifesting in liver, spleen, bone marrow, and bone disorders, amongst others.
Thalassaemia is diagnosed with a simple blood analysis (haemogram), in which an increase of red blood cells and microcytosis (small red blood cells) is found. It normally affects several family members. The diagnostic confirmation is done with DNA testing.
In the mildest cases of Thalassaemia, such as ones that are asymptomatic or present with mild symptoms, the only treatment used is folic acid. In more severe or serious cases, like beta thalassaemia mayor, frequent blood transfusions, bone marrow transplants or gene therapy may be necessary.
The information published in this media neither substitutes nor complements in any way the direct supervision of a doctor, his diagnosis or the treatment that he may prescribe. It should also not be used for self-diagnosis.
The exclusive responsibility for the use of this service lies with the reader.
ASSSA advises you to always consult your doctor about any issue concerning your health.