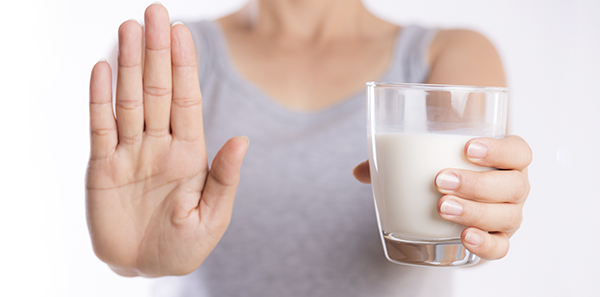 Milk and dairy products from cows or other animals, like cheese or yoghurt, are the main food group needed to meet your body's calcium and vitamin D requirements. Lactose is its main sugar (each 100 ml of milk contains 5 g).
To ensure lactose is fully absorbed in the small intestine, the latter produces an enzyme called lactase to break it down into two sugars: glucose and galactose.
When the small intestine is unable to produce enough of the lactase enzyme, foods with lactose can't be processed and absorbed sufficiently; this is known as lactose malabsorption. This means that these kinds of foods aren't absorbed properly in the small intestine and they move on to the colon, where they're broken down by bacteria and produce the signs and symptoms known as LACTOSE INTOLERANCE.
Causes:
This is the most frequent. Children are born without this deficiency, but from infancy onwards the reduction is drastic.
SECONDARY. The amount of lactase enzyme is normal, but as a result of intestinal disease (intestinal infection, coeliac disease, Crohn's disease, etc.) or of intestinal surgery, the ability to produce lactase is temporarily lost.
CONGENITAL. This is the rarest form. Children are born with no lactase. The condition is passed down from one generation to the next if the father and mother transmit the same genetic variant.
Symptoms and confirmation
Symptoms depend on how much lactose is consumed and how much intestinal lactase activity there is. If more lactose is ingested than the intestine can digest, more symptoms will be triggered. Some of them are diarrhoea, abdominal pain, cramps, abdominal bloating and flatulence.
If lactose intolerance is suspected, it should be confirmed with a few simple tests:
Hydrogen breath test. This test measures the exhaled hydrogen in the breath after taking an already predetermined amount of lactose.
Galactose urine test.
Intestine biopsy analysis.
Action
The intake of milk and dairy products should be adjusted in order to control the symptoms. The purpose of the treatment is to reduce the amount of undigested lactose reaching the colon. Patients may sometimes need to take lactase tablets or consume modified lactose-free dairy products. Complete exclusion is not usually necessary, since up to 10% lactose can be tolerated in one dose. It's also wise to check for the hidden use of lactose in some products, such as medicines (1 in 5 contains lactose in the excipient).
Dairy products are a major source of calcium and lactose-free options are available, plus many other non-dairy foods are also rich in calcium, such as sardines in oil, nuts, chickpeas, cockles, spinach, etc.
If lactose intolerance is suspected, always check with a health professional or even better, visit a metabolism and nutrition specialist.
The information published in this media neither substitutes nor complements in any way the direct supervision of a doctor, his diagnosis or the treatment that he may prescribe. It should also not be used for self-diagnosis.
The exclusive responsibility for the use of this service lies with the reader.
ASSSA advises you to always consult your doctor about any issue concerning your health.