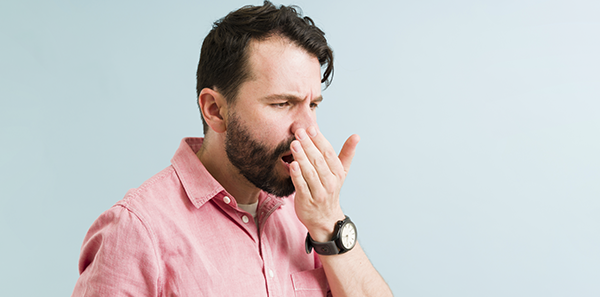 Halitosis, also known as "bad breath", is a problem commonly associated with poor oral hygiene or diseases of the oral cavity. However, it may also be an indication of severe systemic diseases that require diagnosis and treatment.
Generally, bad breath is due to the action of the bacteria located primarily on the back of the tongue and in the gingival sulcus. The papillary structure of the tongue causes food debris to be left behind, which are decomposed by the action of the microbial flora, producing volatile sulphur compounds (VSC), which are largely responsible for the bad smell and the result of protein degradation.
Saliva lubricates and oxygenates the oral cavity and has antimicrobial properties; therefore, the quantity and quality of our saliva are important. Patients with xerostomia (reduced or insufficient saliva) produce greater amounts of VSC and bad breath along with it.
Bad breath is also related to the density and characteristics of the bacteria present on the tongue and in the oral cavity. Patients with halitosis have been reported to have a greater proportion of anaerobes and a lower proportion of protective flora.
TYPES OF HALITOSIS
PHYSIOLOGICAL Halitosis
Non-pathological oral factors:
Morning breath: decreased salivary secretion at night.
Age: the salivary glands of the elderly tend to result in intense breath odour.
Dental prostheses: accumulation of food debris.
Saliva: the greater the salivary flow, the less halitosis you will have. Chewing increases the flow.
Tobacco: typical smoker's breath.
Hunger: fasting can be a cause.
Food: after gastrointestinal absorption and their passage into the blood, the metabolites reach the lungs and are expelled through the airways.
PATHOLOGICAL Halitosis
ORAL Halitosis. In the oral cavity (90% of cases).
Periodontal disease, stomatitis, pharyngitis, tumours.
Poor oral hygiene: tooth decay, dental plaque (tartar), food debris…
Deteriorated dental restorations: dental bridges, dentures, prosthesis…
Chronic periodontal disease and gingivitis (the most frequent cause).
Dental abscess and oro-antral fistula, acute necrotizing ulcerative gingivitis (Vincent's infection), stomatitis, and glossitis.
Oral candidiasis (oral mycosis) favoured by a change in flora.
Drugs: some drugs cause xerostomia (anticholinergics); others produce oral candidiasis (antineoplastics). Other drugs: antihypertensives, antihistamines, anxiolytics, antidepressants…
EXTRAORAL Halitosis
Perioral causes: nasal, paranasal, laryngeal, sinusitis, chronic atrophic rhinitis, tumours…
Digestive diseases (infrequent): dyspepsia, esophagitis, haemorrhage…
Respiratory diseases: lung or bronchial infection, tuberculosis, tumours…
Systemic diseases: diabetes, kidney failure, liver dysfunction…
Psychiatric origin: psychosomatic halitosis, halitophobia…
TREATMENT
We must start with proper oral HYGIENE, including tooth brushing, dental floss, and rinses and gargles with low concentration chlorhexidine twice a day.
If there is no improvement, we should evaluate complementary studies to rule out oral and extraoral causes.
The dentist, with the help of a general practitioner, should supervise these procedures regularly.
The information published in this media neither substitutes nor complements in any way the direct supervision of a doctor, his diagnosis or the treatment that he may prescribe. It should also not be used for self-diagnosis.
The exclusive responsibility for the use of this service lies with the reader.
ASSSA advises you to always consult your doctor about any issue concerning your health.