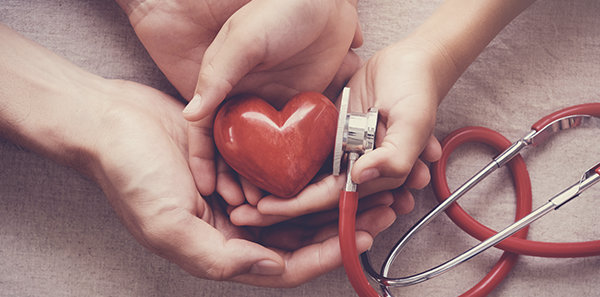 Heart murmurs are pathological sounds due to vibrations produced by blood flow. They're detected on medical examination by stethoscope during cardiac auscultation and can usually be heard more clearly or intensely in the area of the chest closest to the point of onset. The intensity of heart murmurs ranges from 1 to 6, with 1 and 2 being weak and grades 4, 5 and 6 being very intense.
There can be different types of murmurs depending on when they originate:
If they occur during the ventricular systole, that is, when the heart contracts by emptying the blood, they're called systolic murmurs. They can be harmless or be a sign of some sort of heart disease.
If they occur during the ventricular diastole, that is, when the heart distends as it fills with blood, they're called diastolic murmurs. They're almost always a sign of heart disease.
When they occur both during the systole and during the diastole, that is, throughout the heartbeat, we're talking about continuous murmurs.
Functional or innocuous murmurs are harmless and not a sign of disease, so thus do not require treatment. They're common in children and adolescents and can occur in situations of high fever, during pregnancy or during exercise.
Lastly, heart murmurs are called pathological murmurs when they occur or are signs of what might be serious heart disease. They have two different causes:
Congenital Cause – There is a heart defect from birth, such as a communication between the atria (ASD) or between the ventricles (VSD).
Acquired Cause – Occurs over a lifetime. The most important and frequent is Acquired Valve Disease. Valve stenosis (aortic, mitral, etc.) or Valve Failure. The most common cause is the build-up of calcium crystals in the heart valve. Other major causes are Valvular Infections that lead to Endocarditis and also Rheumatic Fever.
The diagnostic test par excellence following detection through auscultation is the Echocardiogram, which enables us to see how the blood flows through the heart and valves, allowing us to detect any anormaly in its structure and determine appropiate treatment.
The information published in this media neither substitutes nor complements in any way the direct supervision of a doctor, his diagnosis or the treatment that he may prescribe. It should also not be used for self-diagnosis.
The exclusive responsibility for the use of this service lies with the reader.
ASSSA advises you to always consult your doctor about any issue concerning your health.