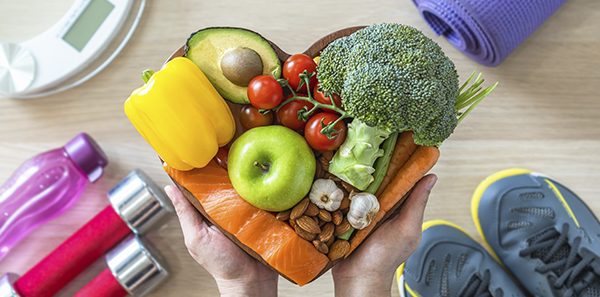 This 14th March, European Day for Cardiovascular Risk Prevention, we are sharing the key recommendations on how to protect your heart. To do so, we must focus on two basic principles of medicine: PREVENTION and RISK FACTORS (RF), in this case, Cardiovascular Risk Factors.
One of the main pillars to avoid the RFs is to have a good diet that provides you with the energy you need to live; that is, to eat a varied and balanced diet, because, as the saying goes, "you are what you eat." The Mediterranean diet is a great ally for cardiovascular health. It is also important to control your cholesterol levels: achieve low levels of LDL ("bad") cholesterol and high levels of HDL ("good") cholesterol.
Some of the foods recommended for good cardiovascular health include: EVOO, avocado, salmon, brown rice, nuts, fruits and vegetables.
Among the recommended actions, avoid alcohol consumption, restrict sugary drinks and soft drinks, watch your salt intake, avoid saturated and trans fats, etc.
In short, it's about following HEALTHY HABITS:
Varied and heart-healthy diet. Acceptable cholesterol levels.
Moderate alcohol consumption.
No smoking as a basic principle.
Regular exercise.
Light and early dinners, and wait a minimum of 2 hours before going to bed.
RISK FACTORS THAT CANNOT BE CHANGED:
Age.
Gender.
Race.
Family history.
RISK FACTORS THAT YOU CAN CONTROL:
Blood Pressure. Avoid high blood pressure (hypertension).
Cholesterol and triglycerides.
Diabetes.
Healthy diet.
Healthy weight.
Regular exercise.
Stress.
Sleep. It should be sufficient and relaxing. Try to sleep "well".
In short, in order to ensure a healthy heart, you must take care of your health.
The information published in this media neither substitutes nor complements in any way the direct supervision of a doctor, his diagnosis or the treatment that he may prescribe. It should also not be used for self-diagnosis.
The exclusive responsibility for the use of this service lies with the reader.
ASSSA advises you to always consult your doctor about any issue concerning your health.