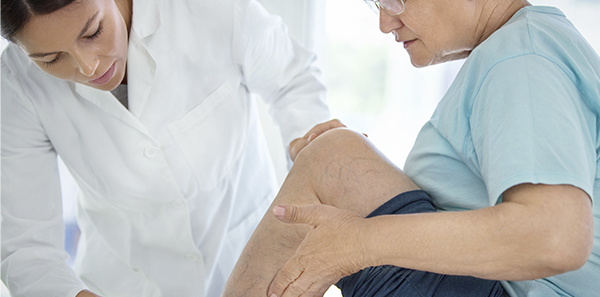 The name varicose veins refers to the enlargement or twisting of superficial veins in the lower limbs. They are caused by an increase in venous pressure or by a weakness in the vein wall, which lead to the enlargement of the veins, resulting in an insufficiency in their valves.
There are two types of varicose veins: primary and secondary.
Primary varicose veins do not have a clear aetiology or cause. Nonetheless, particular factors must be kept in mind which may enable their occurence, such as family medical history, constipation, multiple pregnancies or professions which require several hours of orthostatism (standing).
Secondary varicose veins are primarily caused by thrombosis, pregnancy, trauma, or arteriovenous fistulae.
Prophylaxis: How to prevent varicose veins
Hereditary factors cannot be changed, but with a healthy diet, good weight management, moderate exercise, and by avoiding long periods of standing (orthostasism) or being seated (prolonged sedestation), the occurrence of varicose veins can be reduced or delayed.
It is important to take a series of precautions; although they will not eliminate the problem, they help to prevent possible complications:
Habits of a healthy lifestyle. Refraining from consuming alcohol and tobacco, avoiding obesity, and paying careful attention to diet are recommended.
Stay hydrated and eat a diet rich in fibre. Water is necessary to improve the flow of blood, to eliminate waste, and especially, together with fibre, to increase the volume of the stools and facilitate their excretion.
Avoid constipation. Constipation contributes to the emergence of varicose veins because of the increase in intra-abdominal pressure. It is important to eat a healthy diet and avoid constipation.
Cool down legs by showering or bathing in cold water.
Move and change positions frequently.
Wear items of clothing that fit properly. Avoid tight or snug clothing (belts, boots, etc.)
Stay away from heat. Avoid heat sources such as radiators, heaters, and saunas, as they can worsen symptoms.
Raise legs while sleeping. The mattress can be elevated slightly.
Massage legs from the ankle to the thigh and apply moisturising creams.
Exercise regularly, depending on the person, such as walking, swimming, or cycling.
If you have any questions, consult your doctor. There are specific exercise routines that can be done standing, sitting or lying down that will help with the task.
Medical treatment
This consists in administering venotonics, anti-inflammatory medications, diuretics or analgesics to mitigate the symptoms during periods of decompensation and increased discomfort due to reasons relating to the weather (summer, geography, etc.), to work, or to other causes. They are administered temporarily and during specific times of the year.
Surgical treatment
This treatment is, without a doubt, the most effective. Its importance and effectiveness are determined at present through the appearance of an exceptional diagnostic medium, the Doppler Ultrasound or Doppler ultrasonography.
Below are two surgical techniques used for the treatment of varicose veins.
Internal/external saphenectomy: involves a ligature of insufficient perforator veins and supplementary phlebectomy. This technique is used for very advanced varicose veins when the venous condition is severe.
Isolated phlebectomy through mini-incisions. The procedure is carried out in isolated varicose veins or in very localised reoccurrences.
Sclerotherapy treatment
Sclerotherapy is a minimally invasive treatment used to treat varicose and spider veins. New technologies (laser, thermocoagulation, etc.) and new compounds used for sclerosis (foams, etc.) bring this therapeutic measure to the forefront, which incorporates the Doppler Ultrasound to control the expansion and extent of the sclerosant impact and to avoid complications.
Sclerosis by laser. Two methods exist: one treats the veins through transdermal application, and the other treats them through what is called EVLT, or an endovenous laser treatment for endovascular application.
Thermocoagulation. Used primarily in the treatment of varicose veins for aesthetic purposes.
The most traditional sclerosis and the one that is used most frequently is done through the introduction of a sclerosant substance directly into the interior of the venous lumen, puncturing it, with the objective of provoking a controlled thrombosis of the varicose vein.
The information published in this media neither substitutes nor complements in any way the direct supervision of a doctor, his diagnosis or the treatment that he may prescribe. It should also not be used for self-diagnosis.
The exclusive responsibility for the use of this service lies with the reader.
ASSSA advises you to always consult your doctor about any issue concerning your health.