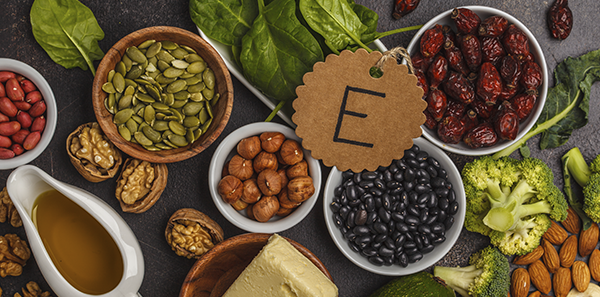 Vitamin E is a fat-soluble vitamin. It doesn't dissolve in water and isn't removed in urine. It's primarily stored in the liver and fatty tissues.
It's a powerful antioxidant that protects the body against free radicals. It also plays a fundamental role in cell metabolism. Vitamin E is the most important fat-soluble antioxidant in the body's tissues. It helps in the formation of red blood cells and protects the immune system.
The main food sources of vitamin E are vegetable oils, especially sunflower, corn, wheat germ and soybean. It's also found in sunflower seeds, peanuts and walnuts. In terms of vegetables, the richest in vitamin E are green leafy vegetables, especially broccoli and spinach.
It's a component of many vitamin-enriched foods. Care must be taken with how much vitamin E is ingested, as too much can produce side effects (but not the amount consumed in natural foods). The approximate daily recommended intake is 15 mg in adults and 5 mg in children.
Vitamin E deficiency can lead to red blood cell destruction and anaemia. An excessive dose can affect circulation, especially in the brain, increasing the risk of stroke.
The information published in this media neither substitutes nor complements in any way the direct supervision of a doctor, his diagnosis or the treatment that he may prescribe. It should also not be used for self-diagnosis.
The exclusive responsibility for the use of this service lies with the reader.
ASSSA advises you to always consult your doctor about any issue concerning your health.