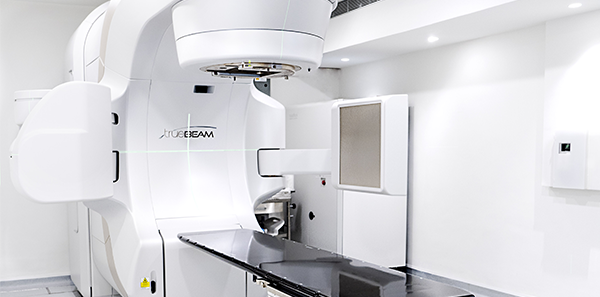 Technology has been a fundamental pillar in the evolution of treatments that are administered to patients with cancer, and thanks to which, we have achieved notable advances which have enabled a substantial improvement in radiotherapy treatments.
Since the emergence of Radiosurgery (SRS) to treat brain tumors in 1950, the development and evolution of cancer treatments has come a long way to arrive where it is today with techniques such as Image-Guided Radiation Therapy (IGRT) and Stereotactic Body Radiation Therapy (SBRT), both of which allow for extreme hypofractionation, meaning that higher doses of concentrated radiation are delivered in fewer sessions.
Both can be combined together, optimising results, and both are able to be administered through different high-tech devices like the CyberKnife, the Tomotherapy machine, and the Linear Accelerator.
One of the most important fields of application of these techniques is in cases of oligometastases, an intermediate state between the localised condition and the metastatic dissemination (Corbin, 2013, Weichselbaum, 2011). To treat them, the most adequate procedure is SBRT, since high doses of radiation are administered with precision to small tumors, regardless of whether they are malignant or benign, difficult to reach, inoperable or untreatable. Its efficacy is much higher, and utilising tight margins minimises side effects as well. Furthermore, another great advantage of this outpatient treatment is that it offers an alternative to others that are more drawn out, uncomfortable, expensive or riskier.
For patients who suffer from between one and three lung metastases, for example, the treatment consists of three SBRT sessions. Local control at one and two years is 100% and 96%, respectively. Additionally, in patients with localised spinal metastases, the disease is controlled at 80% and the clinical response and pain are controlled up to 90%. With regard to metastatic liver cancer, SBRT increases the local control of thedisease as well as the interval free of progression (52 months).
Another example that demonstrates the vital importance of technological innovation can be seen in other pioneering treatments to treat breast cancer, such as Surface Guided Radiation Therapy (SGRT) which is used to ensure the patient's correct position, eliminating permanent tattoos from the skin completely, as well as deep inspiration breath hold (DIBH) which moves the heart away from the chest wall on the left breast, thus significantly reducing the radiation that the heart receives.
When using new procedures in the treatment, it is essential that before initiating the process, the patient is informed about the treatment plan that will be followed and is provided with relevant considerations to be able to consent and which must be reflected in writing and signed.
The development of these cutting-edge techniques, which have contributed significantly to improving results of the treatment of many tumors, has been possible thanks to the work and dedication of a well-trained team that has been carrying them out.
Ultimately, we can confirm that we are living during a clinical revolution where technology is a great ally in the evolution of oncological treatments for its contributions in the field of radiotherapy and consequently, for the improvement of the quality of care for patients with cancer.
Dra. Escarlata López
The information published in this media neither substitutes nor complements in any way the direct supervision of a doctor, his diagnosis or the treatment that he may prescribe. It should also not be used for self-diagnosis.
The exclusive responsibility for the use of this service lies with the reader.
ASSSA advises you to always consult your doctor about any issue concerning your health.