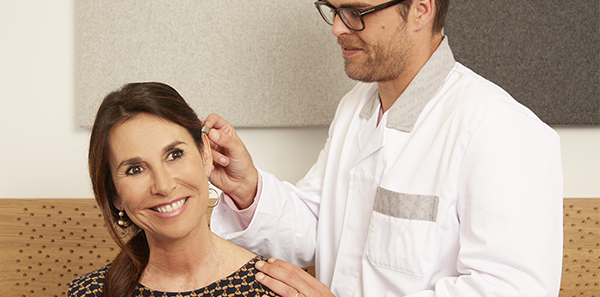 New technologies have given the audiology industry many more resources, offering advanced solutions in terms of technology and design. Digital technology has meant great progress with regard to designing latest-generation hearing aids. Smart systems are better at distinguishing between voices and background noise. What's more, today's hearing aids are designed and built very differently from those in the past. They are now far more discreet and can be adapted easily, choosing the most suitable settings for each patient's problem.
We can find the right solution for each case. Technological advances have made it possible to provide a solution for almost all types of hearing impairment, from the least serious to the deepest and most severe. In such cases, very powerful hearing aids can easily be adapted to the patient. These devices have a monophonic connection system which allows patients to understand even group conversations where there are a lot of different noises. Some hearing aids have Bluetooth, which allow them to be used with a directional microphone that picks up the voice of the person in front of the listener, capturing speech more clearly. These hearing aids amplify the volume of sounds in front of the user and reduce the sound coming in from behind and from the sides.
The most technologically advanced solution these days is to have a miniature digital hearing aid which, as well as having an earpiece inside the ear canal, is also versatile. This means that the same hearing aid can be used for different levels of hearing loss by changing the earpiece alone. This is good news for patients whose hearing impairments worsen after two or three years, because they do not need to replace the entire prosthesis. Just changing the earpiece is enough to solve the problem. Digital hearing aids adjust the amplification individually for each user and are so precise that they can be programmed to amplify certain tonal ranges. These hearing aids have smart digital signal processors that convert acoustic sounds into digital signals and classify them into speech, music, noise, etc….
They are far superior to analogue models because they are more powerful, precise and discreet. They do not whistle, focus on speech and reduce noise. These hearing aids have very small remote controls, for manual use. The remote control fits in your pocket and resembles a watch or smartphone. They also have numerous memories which allow users to make adjustments in different situations, such as noisy or quiet places, telephone conversations, etc… The next step will be wireless digital technology. This technology will be used to send direct, discreet sound to hearing aids from other communication devices such as televisions, radios, telephones, open systems such as museums, etc… This will give users access to sound discreetly and with no effort at all.
The information published in this media neither substitutes nor complements in any way the direct supervision of a doctor, his diagnosis or the treatment that he may prescribe. It should also not be used for self-diagnosis.
The exclusive responsibility for the use of this service lies with the reader.
ASSSA advises you to always consult your doctor about any issue concerning your health